GET UP TO 15% OFF ANY SERVICE AT HAIRCUTie
Did you know you could receive a 10 or 15 percent discount off any regular or sale price at HAIRCUTie hair salon? This even applies to promotional coupons found on our website, haircutie.com.
Sound amazing?
We at HAIRCUTie love to treat our regular customers with exclusive prices – those who come to us again and again.
The more you come, the more you can save!
Introducing discounted gift cards!
$100 gift cards are now $90! This can be used for any regular or promotional priced service or product in our salon. That means a 10% discount on anything.
$200 gift cards are just $170! This is a whopping 15% discount on everything at HAIRCUTie! By purchasing a $200 gift card, this is the equivalent to getting a haircut ($20-$25 value) FREE!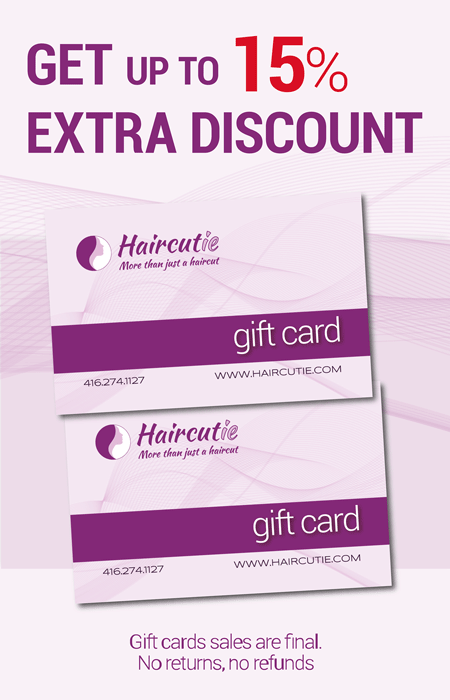 There is no limit on what can be purchased with our gift cards. Use them on regular priced services, promotional deals, or regular and sale priced hair products, such as our wide variety of shampoos, gels, hairspray, etc.
What's the catch?
Well, as with most other gift cards, ours are not refundable or returnable. They should be treated as cash as they cannot be restored or reissued.
The gift card discounts make perfect sense for our regular clients. If you are one of our valued repeat customers, treat yourself to deep discounts that equal to FREE PRODUCTS OR SERVICES!
Anniversary, birthday, or bridal shower? Our gift cards are the perfect way to treat your loved ones to a relaxing day at the salon.
Best of all: Our gift cards never expire.
See you at HAIRCUTie!